Before I show you the new after shots, I want to first apologize to anyone who has followed this site recently. Today I tried to follow all of you back, but Google Friend Connect is acting nuts. It won't show my Blogger profile pic or name. I have added my info to the Google forum thread about the issue, but until the issue is fixed, if you see someone following your blog that is just a shadow with no name, that would be me.
Now onto my most recent design. Tracee from
Review from Here
, my first Wordpress design, has started a new family blog called
The Deep End of the Puddle
. I forgot to take a before shot again, but for those of you familiar with Wordpress, her before shot looked like that standard default template you get when you first install Wordpress (the 2010 one with the picture of the tree lined road in the header).
As with Tracee's last design, this one builds off of the Atahualpa theme, which is my favorite given all the customizations it allows: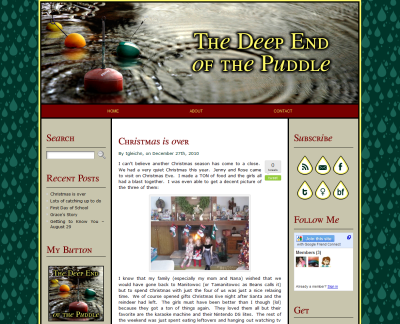 I used Photoshop to do the header and buttons. The buoys are meant to represent each member of Tracee's immediate family in "the deep end of the puddle."
Sometime in the next week or two, I'll be doing another design for Tracee so stay tuned to see how my fourth Wordpress design turns out.