Hello, everyone. My name is Staci. I started my first blog,
Just Bloggled
, on Blogger in May 2008. At the time, the most colorful template that Blogger offered was Dark Dots. In case you couldn't tell from this design, I am a bit of a color junkie so that's the one I went with. However, I quickly became bored with the Dark Dots template. A few months later, I joined Entrecard and began visiting other blogs on a daily basis. That's when my design boredom changed to blog envy, as I realized how nice a Blogger blog could look. I was unemployed at the time so I knew I couldn't hire any of their designers to makeover my blog. I could, however, teach my self how to do it and finally put that art minor of mine to some good use.
I started by changing my blog from Dark Dots to Minima, designing a new header, and changing my two column design to three columns. That little bit of a change satisfied me for awhile, but eventually I wanted more. Every few weeks or so, I would change something else about the way Just Bloggled looked. It was almost like I was addicting to tinkering with the design. Eventually, I came up with this design, which I kept for about a year: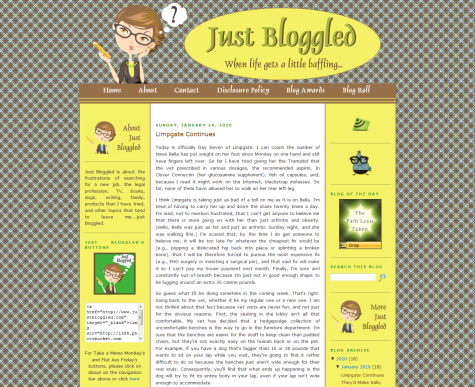 Although I was finally satisfied with my blog, I still had that desire to tinker. I ended up moving a fan fic that I was working on to Blogger just so I could design another site. Then as with my blog, I redid it a couple of times:
(One of my old designs)

(The current design.
You can see it live by clicking on
The Promise to Keep button on the left sidebar.)

I actually thought about starting a third blog just so I could play around with designs some more, but I never followed through. I have enough problems updating my main blog; I really didn't need a new one. Since I had gotten so many compliments on Just Bloggled's design, I finally started thinking about designing other people's blogs on the side. I asked my mom for a Wacom tablet for my birthday in 2009, and luckily she gave me one. A few days later I started working on getting this site up and running and on making a few mockup designs to show what I could do.
Unfortunately, about two months after my birthday, my mom died, and this site kind of got put to the wayside. The only thing I really did with it was redo the design several times over. When I started redoing my blog design for the umpteenth time, I finally realized that I needed to stop dragging my feet and get the ball rolling.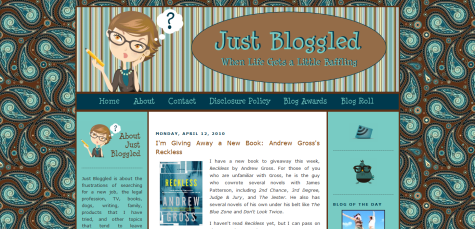 (Just Bloggled's current design.
Click on its button or My Blog to see it live.)

So here I am, rolling the ball across the screen. Blogging Bella Designs is finally opened for business.

For those of you who read my blog, you have probably already guessed how Blogging Bella Designs got its name. For those of you who don't read my blog, I named it after my cocker spaniel Bella. It was really the first business name that popped into my mind, maybe because Bella is constantly sitting under me as I work on my blog designs. I also thought it was fitting considering Bella also means beautiful in Italian and I want to make Blogger blogs look beautiful.

Right now I only do Blogger and Twitter designs, although my headers and buttons can be used on any blogging platform. I hope to add Wordpress designs to my resume soon. While I will probably never be able to make a Wordpress template from scratch--that requires way more programming knowledge than I have--I should be able to customize an existing template for you. I just want to sign up for a host, install some Wordpress templates, and play around with them first before offering to do it for someone else. Once I feel comfortable enough with customizing Wordpress, I will post on this site and on my blog to let you know.

For details about the design process itself, as well as my terms of service, please click on the Design Process & TOS link on the navigation bar above.