A few weeks ago Missie from
The Unread Reader
hosted a blog design giveaway on her blog. Caitlin from
Scarrlet Reader
won that giveaway and received one of my basic package makeovers--a new header, background, equal length columns, and custom signature. Caitlin told me that she loves purple, red, silver, and different shades of brown. She also loves books, softball, and the header at
For What It's Worth
. She wanted something similar in feel to that header, but she preferred that the girl in her own look closer to her age, around 17 or 18.
Here is Caitlin's before shot: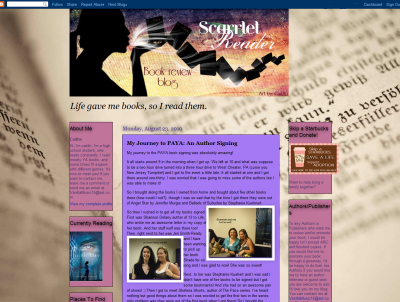 And here is what I came up with: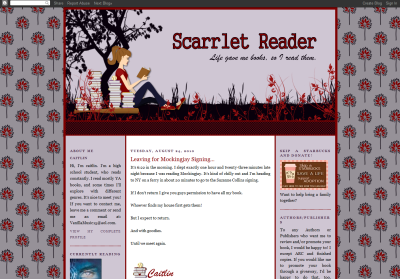 Click on the image to see it live.
It seems that Caitlin and I have similar tastes in colors because her blog's new colors are the same as the colors in my bedroom. See:
I guess if I'm ever lacking in artwork, I can always hang the screenshot on my bedroom wall.
Next up: makeovers for
Notebooking Nook
and
Books with Bite
.